Service Code:
eBSBP
Availability:
Ready to start today!
£155.00

Our eBay Shop design 'Bronze' package service will provide you with a fully branded and functional eBay shop design for your eBay store account, so that you can focus on what you do best - selling your products!
Supplied with a matching HTML auction listing layout template, this package is designed for the intermediate shop seller on eBay looking to perfectly brand their store to maximise it's potential on the eBay market place and further boost their service offering to customers.
A full breakdown of what you can expect can be found on the right hand side tabs, but in short summary, this service will provide you with: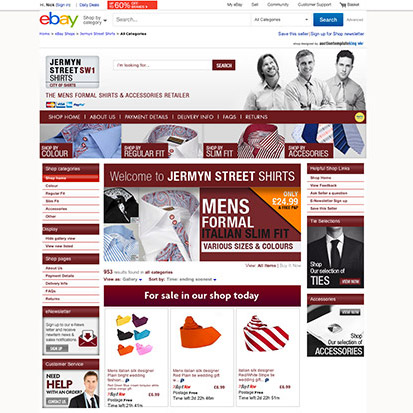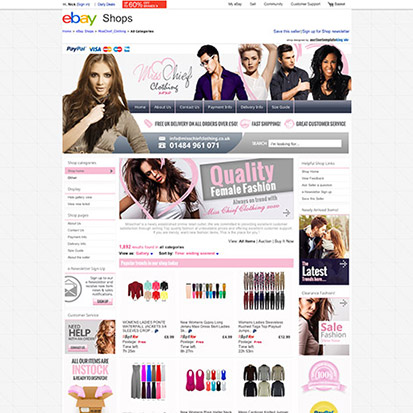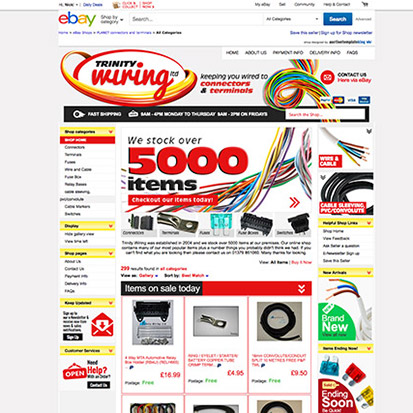 Fully bespoke eBay shop design to your brand identity/look.
eBay Shop Profile Graphics
Matching Auction listing layout Template
Private Login Area to your own online HTML Listing editor with support and help documents for you to match up your eBay listing layouts to your new shop design.
No hidden fees thereafter this service!
Let's break down exactly what this particular service includes for you, so you can see if it's the package for you:
+ Matching HTML Listing Template
Shop Design Theming

Designed to your requirements, matching your own eCommerce/Business branding or if you have no current branding/logos. We'll help you to develop the perfect visuals to sell your business to your customer base.

Large Search Function

Better awareness of this feature for searching your product titles and descriptions, allowing customers to define their requirements quicker.

5 Custom Page Layout Designs

5 pages built and scripted to your provided text content. These pages will help you to focus on selling your products, so if you're finding your always answering questions on 'who you deliver your items with'.

Automated Installation

Sit back and relax while we take care of installing all elements to your shop for you to your eBay shop account. Allowing you to focus on matching your listings up to the new shop branding.

FREE Hosting

Your shop graphics and dynamic content will be hosted on our dedicated eBay shop web hosting.

Private Login Area for help, advice & support files

You'll be given access to a private login to access documentation support & advice files to help you with your selling queries.

Private Online HTML Editor

To use in conjunction with your new HTML listing template. Our online HTML editor will allow you to edit your listing template for specific product listings, which will generate the coding you'll take to list on eBay.

Unbelievable, Friendly Customer Care.

24/7 - 365 days a year, we're on hand to help with any queries you may have relating to the management of your shop. We'll answer all your queries within a maximum of 12 hours and always give solid, easy to understand advice on your queries.

Free shop branding design

If you do not already have a logo/colour branding for your company we will create one for you within our visuals. This will then become your visual identity to show off to the world!

Matching HTML Listing Template

Structured to compliment and match your eBay Shop graphics. The HTML listing template is built to further maximise your business potential on eBay.

Automatically up-datable shop categories

Your shop categories will nicely be displayed on all listings. The dynamic function will allow you to amend categories within your shop as and when you need to add/remove them. All of your listings then created with the html listing template will automatically update - saving you days of administrative updates!

Product image space

A product image to link up your own product photo within your listing layout.

Tabbed auto filled information.

Working with your custom pages, the tabbed auto filled area will stop you having to keep typing out the same information time & time again!

SEO Optimised Content

Throughout the coding and scripting of your listing template our design team will work to make the build as compliant and logically put together to maximise your exposure of of product and brand within your specific industry.
Reviews (0)